Introducing the EA630 Plus Rugged Smartphone
微信扫描二维码分享文章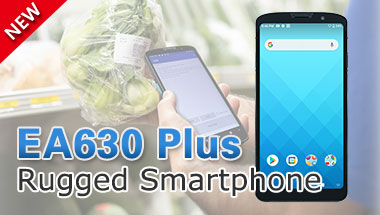 The unitech EA630Plus continues progressing with an advanced Android11 system to optimize high-performance 2D barcode experience, accelerating and improving labor productivity tremendously than ever. The full touch 6" Gorilla screen offers clear visibility up to 80% screen-to-body ratio. A bigger 4G/64G mobile storage mitigates the possibility of data missed. The Ultra Slim Rugged Smartphone drives up stock management more efficiently in the retail, hospitality, and health service industries.
Latest Android 11 OS on Large Screen
Operated under Android 11 OS with GMS Certified, the EA630 Plus rugged smartphone has a 6-inch 18:9 display offering 80% screen-to-body ratio. The 450nits brightness provides easy viewability even in sunlight environment.
A Data Collector for All Your Need
EA630 Plus not only fulfills superior 1D/2D scanning performance but surpass end-user expectations. A wide series of practical features, including an NFC reader/writer, GPS, and a high-resolution 5MP front and 16MP rear camera, further strengthen traceability and functionality in a compact device. Attach and ready-to-use. With the unique UHF RFID gun grip, EA630 Plus allows users to add values much simpler.
Learn more about -> EA630 Plus