unitech PA760 won the Computex Best Choice Award 2019
微信扫描二维码分享文章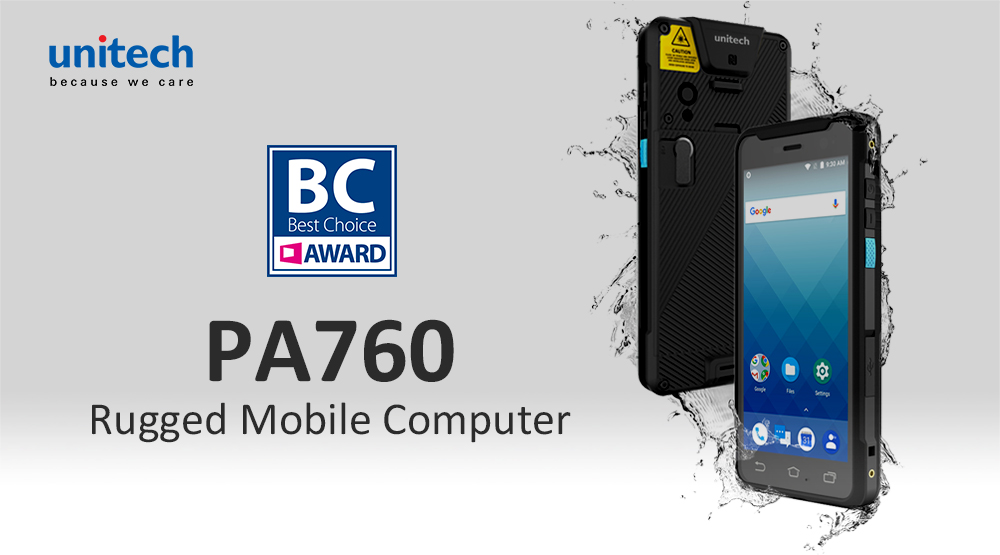 unitech electronics won the Computex 2019 Best Choice Award. Durable designs and multi-scan function allowed unitech's products, PA760 rugged mobile computer win the 2019 Best Choice Award authorized by the TCA (Taipei Computer Association).
This year, 334 products registered for the competition. 90 products were selected after the first evaluation round and the final 35 winners were selected from the final evaluation. With successful innovation and total solutions, unitech PA760 won the judges heart in the IPC and Embedded category.

First Rugged Mobile Computer with Android 9.0 OS and Google Certification

Offering the latest OS of Android 9, a robust processor, and a rugged scanner, the PA760 also comes with the Google GMS license, makes your toughest work days easier. It is ideal for a variety of applications including inventory control in warehouse, inbound and outbound management in the retail industry, parking management and facilities inspection in field service, and flight ticket checking and mobile POS system in transportations.
Innovation Design

This device is built in dual charging interfaces. One is rugged pogo-pin design protects the handheld from the wear and tear of frequent charging and docking, and the other one is USB Type C Connector for maximum flexibility. For the best customer experience, the PA760 features a multi-scan function which is available to read 10 barcodes at one time. Another highlight is the convenience one piece battery cover that helps to change the battery more quickly.
All-in-one function

Featuring advanced barcode scanning performance for special materials barcodes, the PA760 is available to read 1D / 2D / DPM (optional) / DOT code / Barcodes displayed on smartphone screens. It's built in 5MP front camera and 16MP (PDAF) rear camera with LED flash and auto-focus function for delivery record or work process record. Moreover, it comes with NFC & Finger Print (optional) for security checking or identity recognition.
Enhance the Industrial Durable Protection for Best Customer Experience

Built for the harsh environment, the PA760 rugged mobile computer is rugged enough to drop from 1.8 meters (with bumper) onto concrete. It is also available to survive through harsh environments with its IP67 waterproof and dustproof rating. This device delivers a better better sunlight view ability and operation with wet resistance and glove.
Multi-connectivity & User-Friendly Functionality

The PA760 offers 4G dual SIM card slot and support WiFi MIMO dual bands with fast roaming & WWAN: 2G/3G/4G LTE with full band. Moreover, it also supports MDM software solutions and utilities such as Airwatch, SOTI, and MoboLink that gives users to get connected in the way that is best suitable their requests.

unitech has over 40 years of experience in the industry. The R&D and design of our hardware and software are developed by our teams worldwide, and plants in Taiwan are in charge of production and quality control. Our products are now sold around the world through more 1,000 dealers and distributors. Under the principle of "Because We Care," unitech aims to provide products and services of the best quality. Last few years, unitech was honored to receive numerous awards, including the iF Award, Taiwan Excellence Award, Best Choice Award and COMPUTEX d&i award. This illustrates that besides our outstanding performance in automatic identification and data capture (AIDC), we believe this will create considerable business opportunities for our partners and give us a distinct competitive edge in the market.